Thursday, October 18, 2007
Posted by

Arsie
at 6:32 p.m.
No comments:

Wednesday, October 17, 2007
Specifically.. packages.
Okay, not many. But I got a few. I went a little wild you see. I ordered
Romantic Hand Knits
and an abacus counter (
THIS one
and some of those GORGEOUS stitch markers that hug the needles from from HIDEandSHEEP (I got my order in before they showed up on Lime and Violet though. HA!)
Last week I got some Noro Kureyon. Gorgeous colours.
Then what did I do? I spent more. I blame my Mom though, she's an enabler. I showed her the yarn and what I was going to do as gifts (and for us!) and she said oh so innocently "Can you buy more of this? Make one for my Mom and other sister?" How could I say no? Especially when she's helping to pay. ;)
Then I joined up the Mystic Watrs KAL. How could I not with a description like this?
Have you ever found yourself staring into a deep ocean pondering the mysteries beneath the surface?
Or swam in a dark lake at sunset?
Do you feel the lightness of the summer rain?
Water has many forms and faces, and yet they are all the same - simple H2O.

Presented in an original design, this triangular shawl show some of the many faces of water.
The laciest thing I've made is the montego bay scarf (as yet unfinished.. it'll be done by next spring lol) but this called to me. And I must've had a premonition cuz those stitch markers? Are the size of the needles called for in the pattern (of course I may have to go up or down a size, but let me have my moment..).
So of course I had to order some lace weight, from knitpicks. And while I was at it, looking at the needles and realized I didn't have any in the size called for.. and then mentally calculated what I've been paying for just in needles.. and slipped and fell, clicking on the options set (not the harmony though).
And I had to buy enough yarn for mittens for the men in my life.
So I'm going to hope that my review is good this year, and gets me a raise, just to pay for all this! Or maybe I'll be using my gain share to pay for it. That's what I did last time I went on a splurge like this. This will keep me busy for ages!
Oh, and that bag I am working on? Well, I have yet to felt it (still) but I found some really cute buttons at Make1. One of which will go for this purse, and a couple for future purses (one for me, and one for BFF for Christmas).
Posted by

Arsie
at 7:18 p.m.
No comments:

Thursday, October 04, 2007
I think I'm starting to hate them. I've knit two mittens, in an attempt to make the mouse mittens for Velociraptor but I keep running into problems.
You see, when I followed the pattern exact, needles and all, I ended up with a mitten for a baby. Not the 3-5 year old that the pattern said (or maybe my almost 4 year old has huge hands.. both I think). Obviously my gauge was way off, so I went up 3 needle sizes and followed exact and I ended up with a mitten that just fit him. As in, it's nice for now but since he's at that age where he just grows suddenly I'd be making a new pair by Christmas.
So I guess I'd better do my math and make another mitten, slightly bigger. I'm also tempted to buy a set of dpn's just cuz I have a bunch floating around but only in certain sizes, A wider range would be nice rather than this constant grab a pair when I need another size. Cheaper on the pocketbook too.
I have mostly finished at least one project also. It's the squatty sidekick purse, which I still need to felt and then find my copy of Interweave Felt to get how to make the button. Not sure where I left it *sighs* Gotta clean up around here. I've never been miss happy homemaker, though when I'm not working I can keep a pretty nice house. The rest of the time it's like a tornado hit.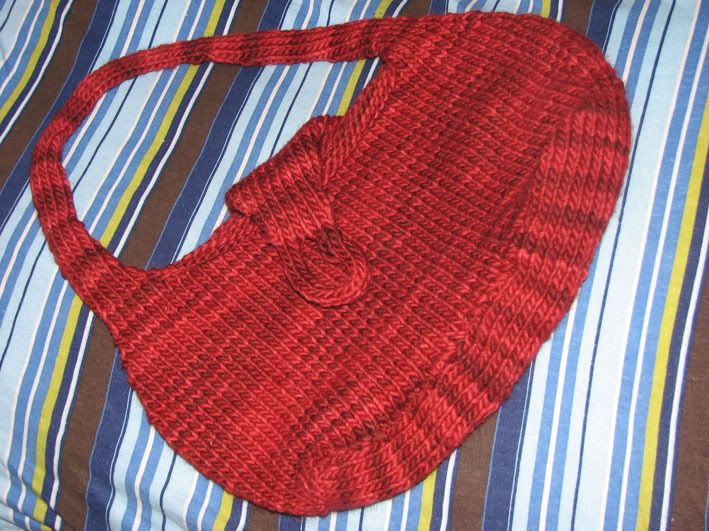 Posted by

Arsie
at 8:56 p.m.
2 comments: