Last post was just a tad self pitying.
Things are moving, albeit crazily at times.
Got things straightened out with the college (I hope, I really want this to be my last class for diploma, then maybe I can get a slightly better paying job).
Got the sock moving again, I managed to finally get around the heel with the
tutorial
from
Cosmic Pluto Knits!
and lots of patience and audiobooks on the bus. I added a couple more rounds and then did it and the heel fits fine.
Here's my big foot in it: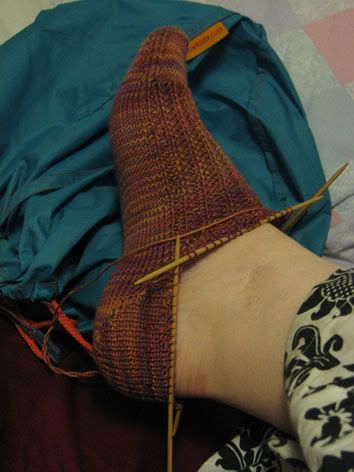 Now I just need to find some time to work on the sweater. At least the classroom portion of driver's ed is almost done, so that'll be two nights a week back to myself again. Maybe I can get some rearranging done and then manage sit down time with some dvd's (I STILL have yet to watch all of Buffy and Angel) and work on the sweater.
Oh! And at least one completed sweater :D